High School Group Digs
Basic Information:
Time & Date: June 14, 5:00 PM - June 19, 9:00 am
Exceptional and exciting educational experiences are often hard to find. Hell Creek Fossils LLC (HCF) will be running a special dig week for high school students ages 13-18 consisting of five days in the field in which students will prospect, excavate and prepare fossils. Discover a world lost for over 66 million years.
Each participating group must consist of no more and no less than one adult sponsor per 3-6 students. The dig charter will begin with dinner and orientation on Sunday 6/14/20 at 5:00 p.m. and run to the following Saturday 6/19/20 at 9:00 a.m. Meals and lodging are included for the duration. Cost will be $745.00 per person. Each group is responsible for their own transportation along established roads in order to get within hiking distance of sites. Though an HCF staff member will be leading each field team, adult sponsors will be responsible for transporting and watching over their individual groups. Day to day activities include but are not limited to prospecting for fossils, mapping, working at excavation sites, guest speakers, and fossil preparation.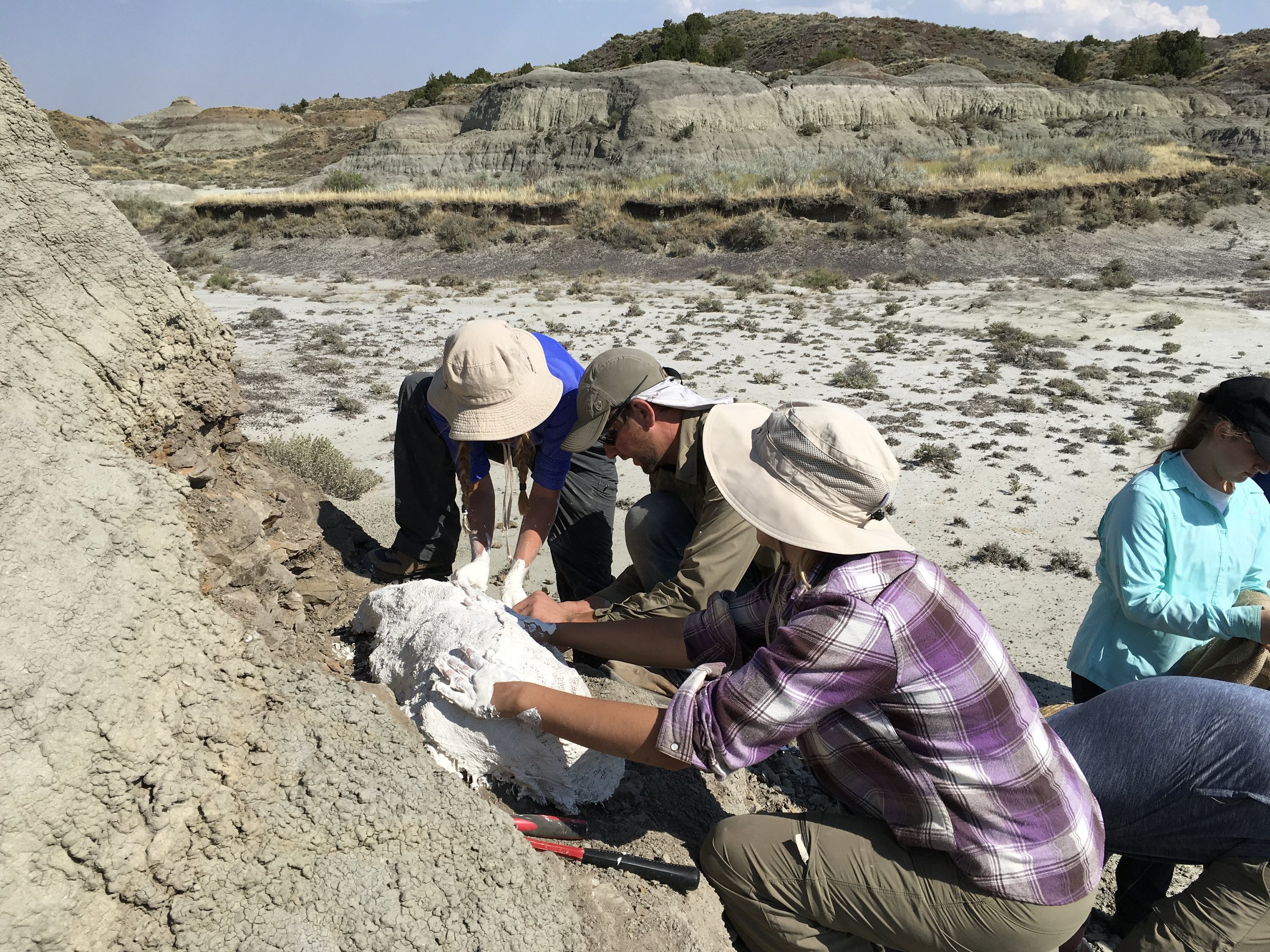 Each participating group must consist of no more and no less than one adult sponsor and 3-6 students. Multiple groups can be from a single school or part of a larger group.
Please sign-up each subgroup separately in order to ensure a form is submitted for each. Quantity should always be set to 1. If you have any questions, please contact us via email at hcfossils@gmail.com.
Camping
Facilities include: field lab, kitchen, showers, restroom, volunteers' tents, and our field office. Furthermore, tents generally have access to electrical outlets if needed.
We provide tents for the duration of your charter. The large luxury camping tents have 133ft² or more of floor space. Camping cots will be provided to group sponsors. Student tents sleep up to 6. Sponsors sleep up to 3 per tent.
All meals are provided. Breakfast will be served at camp or the local cafe. It is recommended that you bring $25-$50 spending cash as you may want to purchase snacks or souvenirs from local stores.
The Dig
Working on the dig usually entails long periods of hiking and sitting. Mornings can be a bit chilly, but the badlands are generally hot, dry, and sunny during the day. Keep that in mind when packing for the dig. In order to break up the day we try to both prospect and work on excavations each day. The field day usually depends on the weather. If it is abnormally hot we may cut the field excavation short for the day. In the rare event of rain we may visit some local museums and have a more lab intensive day.
Bring anything you would typically take camping with the exception of a tent and cooking utensils, which are provided.